Educate Patients  •  Upsell Products & Procedures
All in 20 Seconds or Less
Compulink and VueCare Media have partnered to bring you patient education, integrated directly into your EMR software.
What is the VueSimulator?
It is web-based, interactive software to quickly educate in the exam room and upsell in the optical shop.
Patients and their families visualize conditions & treatments using sophisticated 3D simulations, videos, & multiple viewing angles of the eye anatomy.
Benefits
Promote patient engagement & overcome health literacy issues
Reduce exam chair time, increase practice revenue
Content is coded (ICD-9/10) for quick access to patient-specific education
Education shown to a patient will automatically document in your Compulink software
Features
Drawing tools to enhance talking points
3D eye diagram & multiple viewing angles of the eye anatomy
Dynamic timeline controller showing the progression of vision over time
Email videos directly to patients using your Patient Portal
Monthly Subscription
Monthly subscriptions are billed by provider, but only on the months it is actually used.  Each provider activates their own trial & determines independently if they would like to use the simulator each month.
Your subscription allows unlimited access to the VueSimulator for one low rate.  Compulink bills your practice monthly by how many total providers are subscribed.
More providers activated = cheaper subscription per provider!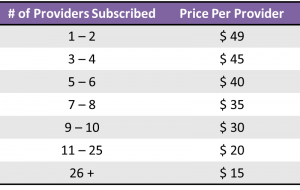 How To Activate Your Free 30 Day Trial
From a patient's file, select the EHR button on the top menu.
Click the VueCare logo for drop-down menu to view All available content or only Patient-Specific (based on ICD-10 codes).
Simulations & Videos shown will automatically document in the Education Section of the Plan Tab,
helping you comply with Meaningful Use!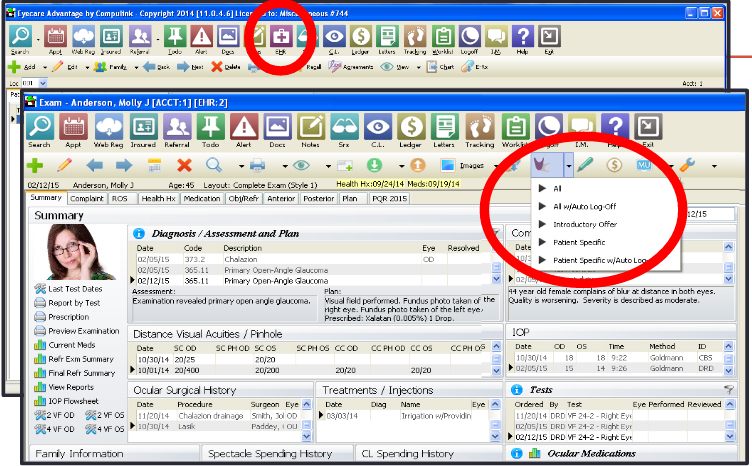 Activate Your Free Trial Today!
Complete the following for additional information or a quick training demo
Other Solutions Available Through VueCare Media
EYECHANNEL TV
Turn Your TV into a custom digital signage system that promotes your practice and educates patients in the waiting room & optical shop, capturing a valuable marketing opportunity for your business
Bandwidth & Streaming
VueSimulator was designed to work optimally on even low bandwidth. Many of our practices have numerous devices accessing the VueSimulator simultaneously from the same location, with very strict and limited internet connection. We make sure they can enjoy VueSimulator via the following approaches.
Streaming Mechanism
When playing videos, the streaming mechanism makes sure the video starts playing as soon as the first few frames (a split of a second) of the video is downloaded, so there is no wait time even in a slow bandwidth environment.
Caching Mechanism
After a video plays once, it will cache with your system. This way when you replay the content, it won't need to download again. Instead, the system will automatically retrieve the media file that was previously downloaded. This ensures hassle free videos that minimize bandwidth usage.
Optimized Compression
All of our content files are compressed as much as possible. Our video's bit rate is usually 0.6 Mbps, which means even if you have a dial up modem you are good to go! For reference, today's internet users typically have 20-150 Mbps at their homes and businesses.
Content Distribution Network
By using the leading CDN, Amazon S3, we have servers across the nation and around the globe. So no matter where you are, the closest server will always quickly respond to your requests.